Le Quadrilatère – Centre d'art de Beauvais 
Lieu : Le Quadrilatère de Beauvais
Exposition dans l'espace public. Parcours d'art contemporain dans la ville, ouvert 7/7, gratuit.
Les œuvres sont situées à proximité du Pont de Paris, 60000, Beauvais
Renseignements : 
- Sur place : à l'Office de tourisme de Beauvais
- Par téléphone :+33 6 81 98 79 25
May 27
@
0h01
–
November 27
@
23h59
Opening: Saturday 27 May 2023 at 4pm
Exhibition dates : From 27 May 2023 to 27 November 2023
Curator : Lucy Hofbauer
Start of the tour : Eglise Saint Étienne au plateau Saint Jean
Rue de l'Étamine
60000 Beauvais
Location: Beauvais
Nos Fières Allures is an exhibition conceived by Le Quadrilatère in the form of an urban itinerary linking the heart of Beauvais with the Quartier Saint-Jean. It consists of five artistic interventions in the public space near the Pont de Paris, at a crossroads of flows and energies: those of the river, the traffic routes and the residents climbing the hillside.
Focus: Caroline Le Méhauté
The artist Caroline Le Méhauté was invited by Le Quadrilatère to take up a creative residency in Beauvais as part of this programme, and her works are being presented as part of the Résonnance section of the Art & Industrie Triennial. The works created during this residency all share a concern for our natural environment, which is in decline and which requires action as well as awareness. The project as a whole, developed through the works and the actions taken with a broad public, highlights the energy of citizens in their capacity to invent, to do and to care.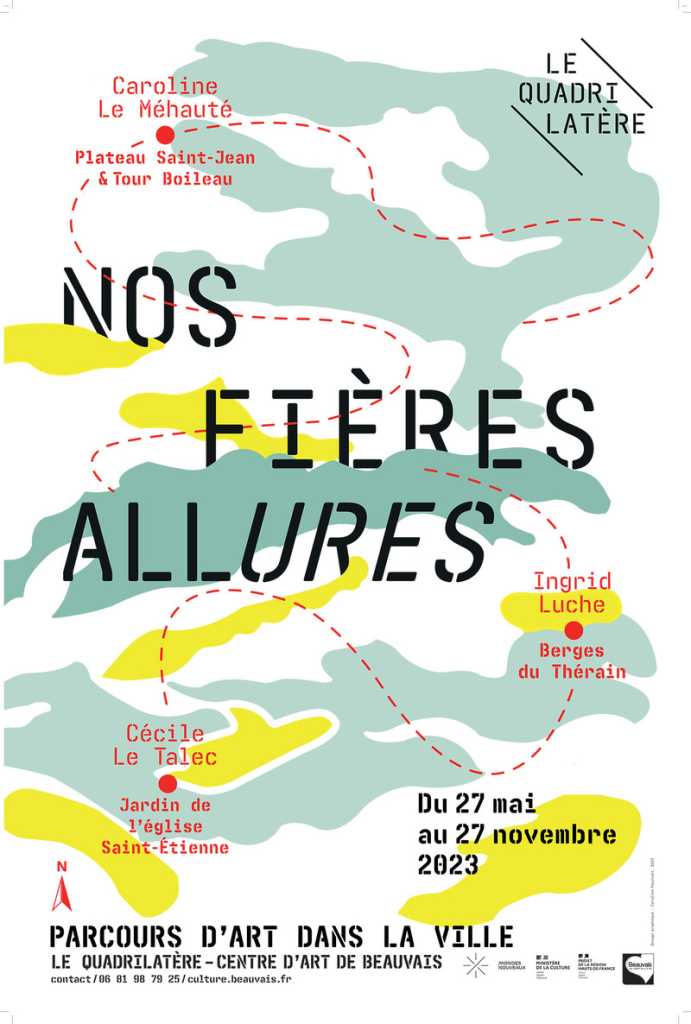 Access
Contemporary art trail in the city, open 7/7, free of charge.
The works are located near the Pont de Paris, 60000, Beauvais.
For further information:
– On site: at Beauvais Tourist Office
– By telephone: +33 6 81 98 79 25